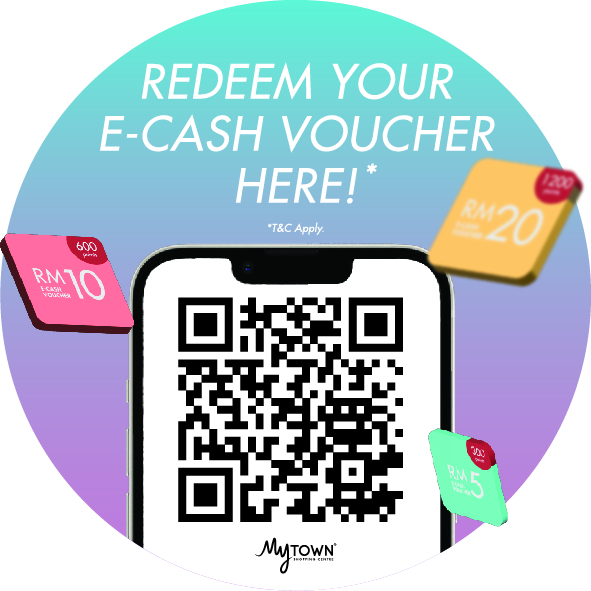 Cash Voucher
MyTOWNKL App
20 Feb 2023 to 31 Dec 2023
Spend and collect point to redeem the Cash Voucher exclusively on MyTOWNKL App!
This Cash Voucher only valid at selected participating tenants.
F&B:
15 May L1-043A
Ayam Penyet Best Station B1-087
Canton Boy G-012B
Cookie Doh by Cookie People B1-048
Da Mang Ren B1-041A
DubuYo Mini B1-023A
Daboba G-01
Goobne L3-043A
Happy Lemon B1-050
Has#tag Sweets B1-043A & 045
Ikat Tepi x Egg90 B1-078
Mee Hiris B1-010
Midorie x The Owls Cafe G-048
Mighty Monster G-019 & G-E-019
Paradise Dynasty G-042
Para Thai G-042A
Sushi Jiro B1-075
Torri Teppanyaki B1-071
Ume Tei L1-012B
Urban Juicer L1-K-08
Wolf Gelato L1-K-03
ZUS Coffee G-K-015 , G-K-016
Digital Lifestyle:
Beauty:
Fashion:
Good2U L1-013
Poney L2-039 & 040
Skechers L1-059
Optical:
Hair Salon:
The Hair Tric & Lashility L2-071
Toys/ Hobbies/ Leisure/ Travel:
Entertainment:
This e-cash voucher redemption is based on first come, first serve basis, or while stocks last.
Each e-cash voucher only valid for 1 transaction only, combined vouchers is not acceptable.
Each e-cash voucher is not to be used in conjunction with other promotions.
Not exchangeable for cash or transferable to another member. Points will be deducted once the voucher is downloaded and points will not be refundable or exchangeable for other item (s) if redemption does not take place with 30 days upon issual.
MyTOWNKL reserves the right to amend these terms without prior notice.