About MyTOWN
A fantastic meeting place serving retail indulgences and a fun day out for the many.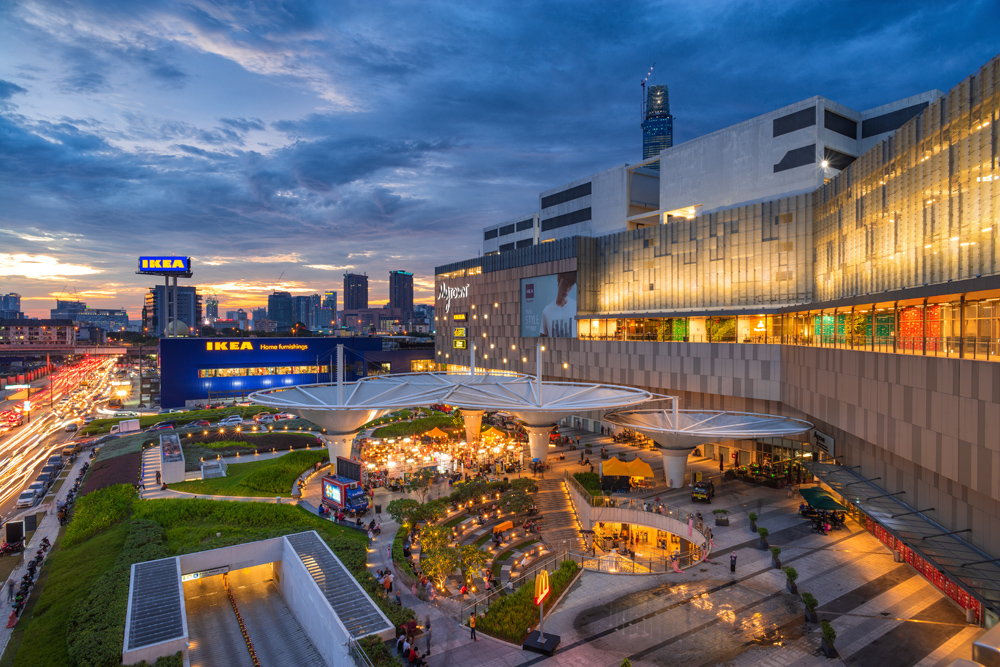 Serving retail indulgences for the many, MyTOWN boasts a list of well-loved retailers housed in its retail space. Swedish home furnishing giant IKEA, Malaysia's largest cinema chain Golden Screen Cinemas and premium grocery store Village Grocer are some of the selected anchor tenants that can be discovered among the many retail establishments at MyTOWN.
As a go-to place for leisure and social meetings, MyTOWN offers fun for family and friends featuring a sunken garden with step seating, semi-covered event pavilion, landscaped outdoor park, international dining at an alfresco dining terrace, children's play area.
Follow Us
Connect with us on our social media pages.




Getting Here
MyTOWN Shopping Centre is situated strategically within the city centre and is accessible via major highways including a direct access ramp to and from the Maju Expressway (MEX). Public commuters can also take advantage of the direct access underground tunnel from Cochrane MRT station to MyTOWN.
Navigate to MyTOWNKL


Cashless Parking at MyTOWNKL
Powered by


How to use?

Tap card
to enter

Reload your
TNG card
before exiting

Tap card
to exit
Early Bird (Weekdays Only)
*T&C apply.
Parking Rate
*Lost Touch 'n Go card will be fine RM20.00. T&C apply.
Valet Parking Rate
Privacy Policy
The Personal Data Protection Act 2010 (hereinafter referred to as "the PDPA") is an Act which regulates the processing of personal data in regards to commercial transactions. The PDPA shall applies to Boustead Ikano Sdn. Bhd. (hereinafter referred to as "BISB") and its entity MyTOWN Shopping Centre (hereinafter referred to as 'MyTOWN'). For the purpose of this written notice, the terms "personal data" and "processing" shall have the meaning prescribed in the PDPA.
This written notice serves to inform you that your personal data is being processed by or on behalf of BISB and/or MyTOWN.
The personal data processed by BISB and/or MyTOWN include the details as requested through relevant activities organised by BISB and/or MyTOWN or as previously provided to BISB and/or MyTOWN via the various forms, oral communications and written communications.
As part of the relevant activities organised by BISB and/or MyTOWN, it is a continuing condition of your participation that you agree to our collecting, using, disclosing and processing your personal data for purposes reasonably required for the operation of the relevant activities and the terms and conditions relating thereto. In particular, but without limiting the generality of the foregoing, you agree to BISB and/or MyTOWN collecting, using, disclosing and processing your personal data for the following purposes:

a) To communicate with you;
b) To inform you of our products and services;
c) To respond to your queries;
d) To send you promotional material;
e) For marketing purposes and research purposes;
f) For all other purposes incidental and associated with any of the above.

If you have provided your contact information and have indicated to BISB and/or MyTOWN that you consent to receiving marketing or promotional information or other advertising via your contact information (collectively, the "MarCom Activities"), then from time to time, BISB and/or MyTOWN may contact you using all of your contact information which we may have in our records from time to time in connection with any of the Marcom Activities.
If you wish to withdraw your consent to any use of your personal data, or if you have any questions, complaints relating to your personal information, or you would like to obtain access, update and make corrections to your personal information records, please contact us at the number below

Contact Person Mohd Azhan Che Mat, Centre Manager
E-mail address mohd.azhan@mytownkl.com.my
Phone number 03-27255100

Terms & Conditions
MyTOWN Shopping Centre (OR Boustead Ikano Sdn Bhd) owns and operates "www.mytownkl.com.my" and the services available on this website. All contents included on this website, including text, graphics, logos, buttons, icons and images, is the property of MyTOWN Shopping Centre or its content suppliers, and is protected by the Malaysian copyright and trademark laws. By accessing and using this website, you have accepted without limitation or qualification, all of these Terms and Conditions, which take effect on the date which you first, use the website.
The content and software on this site may be used as a reference resource. However, you may not copy, publish, distribute, or commercially exploit the content of this website, or use this website for any other purpose. You agree to use this website only for lawful purposes, and in a manner which does not infringe the rights of, or restrict or inhibit the use of this website by any third party. Such restriction or inhibition includes, without limitation, conduct which is lawful, or which may harass or cause distress or inconvenience to any person, the transmission of obscene or offensive content or of defamatory, racially or ethnically objectionable material of any kind or disruption of normal flow of dialogue within this website.
MyTOWN Shopping Centre or Boustead Ikano Sdn Bhd reserves the right at its discretion to modify the terms and conditions under which this website offered. Use of this website after the posting of any such modification constitutes your agreement to be bound by the terms and conditions as modified.
If you do not agree with the terms and conditions of this website and do not wish to be bound by them, please do not use this website or download any materials from this website.
All material ("Materials") displayed or transmitted on this site, including but not limited to text, photographs, images, illustrations, video clips, audio clips, and graphics are owned by MyTOWN Shopping Centre and is protected by Malaysian and international copyright, trademarks, service marks, and other proprietary rights, laws and treaties.
Except as provided in this agreementdocument, you may not copy, reproduce, publish, transmit, transfer, sell, rent, modify, create derivative works from, distribute, repost, perform, display, or in any way commercially exploit the Materials carried on this site, nor may you infringe upon any of the copyrights or other intellectual property rights contained in the Materials. You may not remove or alter, nor cause to be removed or altered, any copyright, trademark, or other proprietary notices or visual marks and logos from the Materials.
You cannot make copy of any of the Materials carried by MyTOWN Shopping Centre. You may not archive or retain any of the Materials accessed on this website without the express written permission of MyTOWN Shopping Centre. All requests for archiving, republication or retention of any part of the Materials must be in writing to MyTOWN Shopping Centre, clearly stating the purpose and manner in which the Material will be used. Requests for permission to archive, retain, or republish any part of the Materials may be submitted to MyTOWN Shopping Centre.
You acquire no rights or license whatsoever in the Materials other than the limited rights to use the site in accordance with these terms and conditions. Any of the Materials accessed or downloaded from this site must be accessed or downloaded in accordance with the terms and conditions of use specified in this document. MyTOWN Shopping Centre reserves any rights not expressly granted under these terms and conditions of use.
You agree to indemnify MyTOWN Shopping Centre or Boustead Ikano Sdn Bhd harmless from any claim or demand including solicitors fees made by any third party due to or arising out of your use of this website or violation of any of these terms and conditions.
MyTOWN Shopping Centre reserves the right to modify, update, suspend, discontinue, or restrict the use of or access to this website or any portion of this website, at any time and subject to change without notice or liability.
Although all information and materials carried on this website is believed to be reliable, MyTOWN Shopping Centre makes no representation, neither expressly or impliedly, as to the accuracy, completeness, timeliness or reliability of the materials or any information on this website. By using this website or by relying on any of the materials or information carried on this website, you assume all the risk and responsibility arising out of use or reliance on this website.
MyTOWN Shopping Centre shall have no liability or any responsibility whatsoever for any losses or damages suffered or caused by viruses that may affect your computer equipment or other property by reason of your use of, access to or downloading of any material from this website. All downloaded material from this website shall be at your own risk.
MyTOWN Shopping Centre expressly disclaims any warranties, expressly or implied, including but not limited to any warranties of merchantability or fitness for a particular purpose or against infringement. MyTOWN Shopping City shall not be liable to you or anyone else for any loss or damages whatsoever, including but not limited to any direct, indirect, special, consequential, incidental, punitive, or other damages arising out of the use of or inability to use this website or any materials carried on this website.
You agree that any claim arising from or pertaining to the use of this website shall be governed by the Malaysian law and submitted to the exclusive jurisdiction of the Courts of Malaysia.
This website may from time to time contain links or pointers to Internet sites maintained by third parties. MyTOWN Shopping Centre does not operate or control in any way any information, products or services on these third-party sites and MyTOWN Shopping Centre expressly disclaims any responsibility for such third-party sites, which are provided for your convenience on an "as is" basis without warranties of any kind, express or implied.

All e-mail sent to the e-mail addresses of the MyTOWN Shopping Centre becomes the property of MyTOWN Shopping Centre. MyTOWN Shopping Centre reserves the right, but shall not be obligated to, publish any email message received, in whole or in part, or make such other use as MyTOWN Shopping Centre in its sole discretion sees fit.

This website requires the following browser versions to view properly:

Firefox 3.6 and above for Windows PC and Mac
Safari 4 and above for Mac
Safari 5 and above for Windows PC
Internet Explorer 9 and above for Windows PC
Parking Terms and Conditions :
By entering and use this car park facility, it is deemed that you agreed to the terms and conditions below :
The parking fee is the rental cost of the space in which you park your vehicle and service tax payable. It does not include security service or insurance coverage cost. Therefore, you enter and use the car park facility at your own risk.
We hereby notify that the proprietor and the management of the car park facility shall NOT be liable at all times for:

Any personal injury or death to you or any person;
Any loss, damage, theft, burglary to any vehicle or any property and/or ab part thereof including negligence in this premise at anytime.

All users of this car park facility are advised to:

Ensure your vehicle is locked at all time.
Ensure that no personal belongings and/or valuables are left inside your vehicle.
Ensure that your parking ticket or passcard is not left inside your vehicle.
Ensure that overnight parking is not allowed. Clamping and penalty of RM100 will be imposed.

Car owners are advised to take the necessary measures to prevent such occurrence.